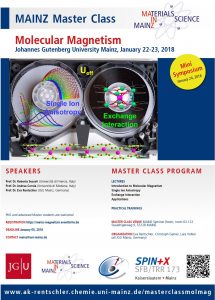 For January 22-23 we organise a Master Class on 'Molecular Magnetism' with MAINZ visiting Professor Roberta Sessoli (U Firenze) and Professor Andrea Cornia (U Modena), to be held at JGU Mainz.
Registration
The number of participants is limited and will be filled on a first come, first served basis. Please register to the event using Eventbrite (deadline is January 5).
Programme
The Programme is available here.